01 Dec

December 2018
Happy Birthday Theresa!  Theresa is not only celebrating her own birthday this month, she has the very special pleasure of also being able to celebrate her mom's birthday with her in person this year for the first time in 29 years!  Cooking and baking is one of Theresa's many talents.  Her peanut butter balls are a holiday favorite.  Here's her recipe if you'd like to give it a try!
CHOCOLATE PEANUT BUTTER BALLS
INGREDIENTS: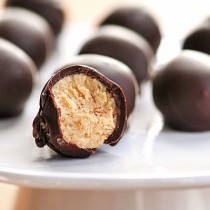 1/2 cup creamy peanut butter (substitute other nut butters, if needed)
3 tablespoons salted butter, softened
1 cup+ powdered sugar
8 ounces semi-sweet chocolate, chopped (or chocolate chips)
DIRECTIONS
Mix peanut butter and butter together in a mixing bowl. Gradually stir in powdered sugar until combined well into a dough ball. If needed, add more powdered sugar a little at a time until mixture holds together in a large ball. Cover and let peanut butter dough sit for about 15 minutes to firm up, or cover tightly with plastic wrap and refrigerate until ready to form balls.
Shape into 1-inch balls, place on a baking sheet, cover and refrigerate for at least 20 minutes to allow to firm up. Dough balls should hold shape before dipping in chocolate. Add more refrigeration time if necessary.
Melt chocolate according to package instructions.
Dip peanut butter balls one at a time into melted chocolate, allowing excess to drip off. Place on waxed paper lined baking sheet, cover and refrigerate until ready to serve.
Happy office anniversary to Julie!  Julie began her career in our office in 1986!  We couldn't be happier that she is still a cornerstone of our Zachary Orthodontic team.  Julie's list of strengths and talents goes on and on… She is organized, efficient, creative, dependable, and an invaluable team member for us.
GIFT IDEA: TEETH WHITENING
Whether you are looking to brighten your own smile for that special event this holiday season, or you want to gift a brighter smile for someone you love, we've got you covered!  The cost for one 20 minute session, plus a whitening pen to take home with you, is $195.
LOCAL HOLIDAY FUN
Zachary Orthodontics wants to wish all of our families and team members a wonderful and joyous holiday season.  In that light, here is a link to many of the fun family events in Dana Point, Laguna Niguel, and surrounding Orange County areas: